Fort Dodge High School


Class Of 1967
WHO'S ONLINE NOW
No registered users are online right now.
WHERE WE LIVE
Who lives where - select from the dropdown to find out.




Show Classmates on map
WHERE ARE THEY NOW

UPCOMING BIRTHDAYS

MISSING CLASSMATES
Know the email address of a missing Classmate? Click here to contact them!
JOINED CLASSMATES
Percentage of Joined Classmates: 32.3%


| | | |
| --- | --- | --- |
| A: | 130 | Joined |
| B: | 272 | Not Joined |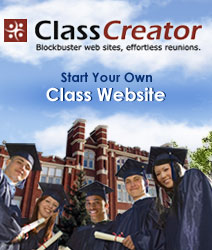 Website Created: 01/09/2011
Visitors to Website as of 4/8/2016 - 31,383
Welcome to the Fort Dodge Senior High School
Class of 1967 Website
We hope that you will enjoy and use the website!
--------------------------------------------------------
April 8, 2016
RE: Class of 1967 – 50th Reunion Update
Hi Everyone!
Based on the number of visits recently to our class website "FortDodge1967.com" it appears that many of you are beginning to think about our 50th class reunion. While there is not a lot to report at this time, we did want to give everyone an initial update on the reunion.
First, we want to let everyone know that there will be a get-together in Fort Dodge on Saturday, April 16th to talk about the reunion which will take place sometime during the summer of 2017. We will be meeting on Saturday, April 16th at Perkins Restaurant, 511 S. 32nd Street at 4:00 PM. We hope you can join us. If you are interested in participating in the 2017 planning process or just want to stop by and offer your input, we encourage you to do so. It will take a number of people to help make the 50th reunion a success.
If you can't join us in Fort Dodge that day, but would like to be part of the planning process please let us know. With the various methods of communication available these days, it makes it possible for those wanting to participate in the process to do so, regardless of where you live.
Going forward, the website will continue to be the primary source of information for the reunion and it will be updated as more information becomes available.
We hope you can join us on the 16th….the countdown to our 50th Reunion has begun!
Linda Hallgren (Wilshusen) - Email: jlhallgren@frontiernet.net
C.B. Higgins - Email: Chiggins1967@yahoo.com
-----
Added - 4/8/16
Also....you should check out and join "Fort Dodge Senior High Class of 1967" on Facebook. We will do our best to share reunion information there also.
Added - 4/9/16
On the class email yesterday,18 were returned due to incorrect email addresses. Please take some time to review your current profile information to make sure that everything is correct....thanks!
Website Information
We hope that this website will be a good way for members of the class to stay in touch with each other. Please help us pass the word about this website to anyone that you might be in contact with from our class.
How to access this website. In the box on the right, click "Join Here" and your name will appear on the class list. Click on your name and follow the directions. You will need to enter your email address and create a personal password. You may also complete a personal profile and upload personal photos for others to view. Only members of the class and their guests can access this site. We are able to accept "guest members" such as spouses, class friends, etc. Please let us know the name of the person you that you would like to allow access to, and we will add their name to the list. If you do not see your name on the list, please contact one of the 2012 class reunion Co-Chairs shown below.
Please Note: Class members are responsible for keeping their personal information current. Address, Phone Number, Email Address, etc. This website will also serve as the current "Database" for the class. The website will send a reminder every six months asking you to update your profile if needed.
IMPORTANT MESSAGE REGARDING EMAILS ASSOCIATED WITH THIS SITE:
In order to ensure you receive important messages from our class web site, as well as messages sent directly to you from other Classmates, it's important you whitelist the email address noreply@classcreator.net (that's a .net, not a .com).
What is whitelisting? Whitelisting simply means you are telling your email program to accept all emails coming from our class web site and our Classmates. The technique for whitelisting varies by email program, but generally you will see the term "Whitelist", "Safe List", or "Safe Sender's List". This is where you want to be sure you have added the following email address: noreply@classcreator.net.
Class Creator, the system that helps us operate our class web site, uses the address noreply@classcreator.net when sending out email messages. Be assured that all emails sent through our site are valid — you will not receive spam email. Whitelisting noreply@classcreator.net is the single most important thing you can do to ensure you don't miss anything happening on our site or miss receiving your emails from your fellow Classmates.
Stop and take a moment to whitelist noreply@classcreator.net right now, and ensure you stay connected!